Here's a salad you can make with the family mini foodie. It's really yummy and has a sweet, yet tart yet zesty flavour that goes really well with lots of things! Think chicken, bbq'd beef, fish (we've been eating it this week with hot smoked salmon) or whatever is on the menu this week. This zesty orange salad is fun to make. But the extra bonus with this recipe? It's part of an A-Z linkup for cooking with kids…so check out the other bloggers recipes!
To make this recipe with a mini foodie they will:
squeeze juice from an orange
zest an orange
measure oil
measure mustard
mix a dressing together
mix salad leaves
chop cabbage
chop orange
chop radish
make carrot ribbons with a peeler
zest an orange
peel an orange
The good thing about this salad is you as an adult can help with anything that is too tricky for your child. Miss 5 isn't particularly competent with a peeler (she peeled her thumb) and therefore needs more practice before she can make the carrot ribbons. She's quite good with her kiddie safe knife though and had no trouble cutting the cabbage, orange or radish.
What makes this salad special is all the colour! The purple savoy cabbage with the orange, the mustard seeds and the rocket makes for an explosion of colour on the plate, and it almost convinced Master 3 to try the salad.
Here are my other salad recipes for you to check out:
If you're a blogger and you'd like to linkup a cooking with kids post…please do! They will all be added to a special pinterest board.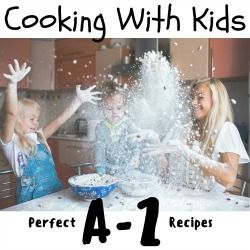 Generate your button code